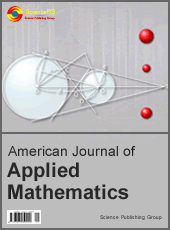 American Journal of Applied Mathematics
American Journal of Applied Mathematics (AJAM) is an interdisciplinary journal containing research articles that treat scientific problems using methods that are of mathematical interest. Appropriate subject areas include the physical, engineering, financial, and life sciences. Coverage of the journal has been strengthened in probabilistic applications, while still focusing on those areas of applied mathematics inspired by real-world applications, and at the same time fostering the development of theoretical methods with a broad range of applicability. Survey papers contain reviews of emerging areas of mathematics, either in core areas or with relevance to users in industry and other disciplines.
Abstracting and Indexing
Journal Article Workflow
Be familiar with the process of article publishing, then you can know exactly where your article is in the whole publication process, such as Article Reviewed, Article Accepted and Article Published. Check your article status here.