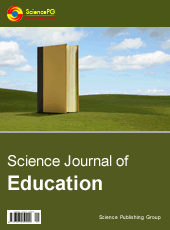 Science Journal of Education
Science Journal of Education (SJEDU) , a peer-reviewed open access journal published bimonthly in English-language, provides an international forum for the publication of outstanding full papers from all areas of education and related fields. The Journal seeks to bridge and integrate the intellectual, methodological, and substantive diversity of educational scholarship, and to encourage a vigorous dialogue between educational scholars and practitioners. Contributions that are fundamental to the development of education and its applications are accepted. Generally, review articles on some topic of special current interest will be published.
Abstracting and Indexing
Journal Article Workflow
Be familiar with the process of article publishing, then you can know exactly where your article is in the whole publication process, such as Article Reviewed, Article Accepted and Article Published. Check your article status here.