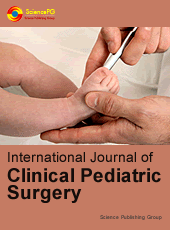 International Journal of Clinical Pediatric Surgery
International Journal of Clinical Pediatric Surgery (IJCPS), a peer-reviewed, bimonthly, international open access journal, and designed for the pediatric surgeons across the globe, doing wide variety of surgeries on infants and children. Authors / readers of this journal are pediatric surgeons working at various positions at medical institutions, university hospitals, private sectors hospitals as faculty, consultants, specialist, trainee resident of general surgery and pediatric surgery, medical graduates, and others interested in the subject of pediatric surgery. This journal publishes varieties of manuscripts in the subject area of Neonatal Surgery, Pediatric General Surgery, Pediatric GIT Surgery, Pediatric Trauma, Pediatric Urology, Pediatric Neurosurgery, etc.
Abstracting and Indexing
Journal Article Workflow
Be familiar with the process of article publishing, then you can know exactly where your article is in the whole publication process, such as Article Reviewed, Article Accepted and Article Published. Check your article status here.