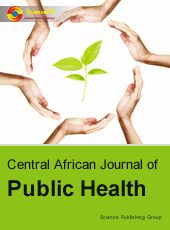 Central African Journal of Public Health
Central African Journal of Public Health (CAJPH), is an international peer-reviewed open-access journal of the Science Publishing Group (SciencePG), publishing original articles on current topics of special interest and relevance in various health related fields, including Adolescent health, Allied health sciences, Clinical aspects related to health, Community Health, Environmental health, Epidemiology, Health policy and planning, Health Promotion, Industrial health, Nursing and health, Nutrition and health, Paediatrics and child health, Public health, Rural health, School health, Sexual and reproductive health, Tropical medicine and health, Urban health and Women's health, relevant to Africa and the tropics. It is published bimonthly.
We accept a manuscript on the understanding that it is reporting unpublished work and that it is not under consideration for publication elsewhere. Papers are accepted only in English. British, South African or US English spelling and punctuation are accepted, but should be consistent throughout the paper.
Abstracting and Indexing
Journal Article Workflow
Be familiar with the process of article publishing, then you can know exactly where your article is in the whole publication process, such as Article Reviewed, Article Accepted and Article Published. Check your article status here.