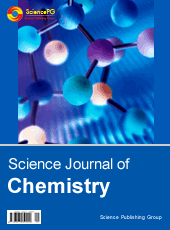 Science Journal of Chemistry
Science Journal of Chemistry (SJC) , a peer-reviewed open access journal published bimonthly in English-language, provides a international forum for the publication of outstanding full papers from all areas of chemistry and related fields, and the attendant goal is to promote widespread acceptance of the Journal as an authoritative and indispensable holding in academic and institutional libraries. Contributions that are fundamental to the development of chemistry and its applications are accepted. Generally, review articles on some topic of special current interest will be published.
Abstracting and Indexing
Peer Reviewers
Abbas Madani
Institute for Integrative Nanosciences (IIN)
IFW Dresden, Dresden, Germany
Abd-El-Hamid Bensafi
Department of Chemistry, Faculty of Sciences, Abou Bekr Belkaid University of Tlemcen
Chetouane, Tlemcen, Algeria
Ahmed El-Mekabaty
Chemistry Department, Mansoura University
Mansoura, Cairo, Egypt
Ahmed Fazary
Chemistry Department, Faculty of Science, King Khalid University
Abha, Asser, Saudi Arabia
Ala Sirhan
Faculty of Pharmacy, Batterjee Medical College
Jeddah, Makkah, Saudi Arabia
Ali Ashour Al- Dhfeery
Department of Chemical Engineering, University of Basrah
Basrah, Iraq
Amel Bendjeddou
Department of Material Sciences, Faculty of Science and Technology, Mohamed Cherif Messaadia University
Souk Ahras, Algeria
Amit Kumar
Department od Chemistry, Konkuk University
Seoul, South Korea
Anil Bari
Department of Physics, Arts, Commerce & Science College
Bodwad, Maharashtra, India
Arshia Parveen
Department of Chemistry, B. Raghunath College Parbhani, Swami Ramanand Teerth Marathwada University
Nanded, Maharashtra, India
Badar Ghauri
Department of Rs and Gisc, Institute of Space Technology
Karachi, Sindh, Pakistan
Balaji Krishnasamy
Department of Chemistry, PSG College of Technology
Coimbatore, Tamil Nadu, India
Beheshteh Sohrabi
The Chemistry Department of Science and Technology University
Tehran, Iran
Bharat Makwana
Kadi University, Gujarat University
Ahmedabad, Gujarat, India
Bharat Makwana
Department of Chemistry, HVHP Institute of PG Studies and Research, Kadi Sarva Vishwavidyalaya University
Ahmedabad, Gujarat, India
Eleftheria Katechaki
Department of Research and Development, Agricultural Cooperatives' Union of Aeghion
Patras, Dytiki Ellada, Greece
Entela Treska
Center of Molecular Diagnostics and Genetic Researches, University Hospital of Obstetrics and Gynecology "Queen Geraldine"
Tirana, Albania
Fatma Ali Mohamed
Department of Chemistry, Faculty of Science, Helwan University
Cairo, Egypt
Hasan Kilic
Department of Chemistry, Faculty of Sciences and Letters, Marmara University
Istanbul, Turkey
Hazem Abu Shawish
Chemistry Department, Al-Aqsa University
Gaza, Palestinian Territories
Ho Soonmin
INTI International University
Nilai, Negeri Sembilan, Malaysia
Jagvir Singh
Department of Chemical Sciences, Shri Jagdishprasad Jhabarmal Tibrewala University
Jhunjhunu, Rajasthan, India
Karol Jackowski
Faculty of Chemistry, University of Warsaw
Warszawa, woj. mazowieckie, Poland
L Mallesha
PG Department of Chemistry, JSS College of Arts, Commerce and Science
Mysore, Karnataka, India
Manish Chaudhary
Mehsana Urban Institute of Sciences, Ganpat University
Mehsana, Gujarat, India
Mira Pucarević
Educons University, Faculty for Environmental Governance and Corporate Responsibility
21208 Sremska Kamneica, Vojvodina, Serbia
Mohamed Loukil
Department of Chemistry, Sfax University
Sfax, Tunisia
Mohammad Hadi Dehghani
Environmental Health Engineering, Tehran University of Medical Sciences
tehran, Iran
Nadia Elkanzi
Chemistry Department, Faculty of Science, Aswan University
Aswan, Egypt
Nawal Suleman
Chemistry Department, Zilfi Faculty of Education, Majmaah University
Zilfi, Saudi Arabia
Nenad Milosavic
Division of Experimental Therapeutics, Department of Medicine, Columbia University
New York, USA
Nese Cakir
Analytical Chemistry Department, Faculty of Pharmacy, Marmara University
Istanbul, Turkey
Nestor Tancredi
School of Chemistry, University of the Republic
Montevideo, Uruguay
Nikolia Lalioti
Department of Chemistry, University of Patras
Patras, Achaia, Greece
Pablo Lopez-Albarran
Wood Science and Technology, Universidad Michoacan de San Nicolas de Hidalgo
Morelia, Michoacan, Mexico
Purvesh J. Shah
Chemistry Department, K.K.Shah Jarodawala Maninagar Science College
Maninaga, Gujarat, India
Qichun Zhang
School of Materials Science and Engineering, Nanyang Technological University
Singapore
Ranjan Mohapatra
Department of chemistry, Government College of Engineering
Keonjhar, Odisha, India
Rehab Abdeen Herzallah
Health Science Programe, King Khalid University
Abha, Saudi Arabia
Rose Philo
Department of Chemistry, St. Paul's College
Ernakulam, Kerala, India
Rumana Jahan
Centre for Advanced Research in Sciences, University of Dhaka
Dhaka, Bangladesh
Saeeda Nadir Ali
Department of Chemistry, NED University of Engineering and Technology
Karachi, Sindh, Pakistan
Santosh Nalage
Research and Development Department, Anshul Specialty Molecules Ltd
Roha, Maharashtra, India
Seema Akbar
National Facility for Nonclinical Safety Evaluation of Unani Formulations, Regional Research Institute of Unani Medicine, University of Kashmir Campus
Srinagar, India
Sergiu Coseri
Laboratory of Natural Polymers, "Petru Poni" Institute of Macromolecular Chemistry
Iasi, Romania
Sheraz Ahmad Khan Tanoli
Laboratory of Nuclear Magnetic Resonance, Department of Chemistry, Federal University of São Carlos
Jardim Guanabara, São Carlos, Brazil
Solhe Alshahateet
Mutah University
Mutah, Karak, Jordan
Vladyslav V. Lisnyak
Department of Physical Chemistry, Chemical Faculty, Kyiv National Taras Shevchenko University
Kyiv, Ukraine
Xiaoshi Wang
Department of Biochemistry and Biophysics of Perelman School of Medicine, University of Pennsylvania
Philadelphia, USA
Yousry Issa
Chemistry Department, Faculty of Science, Cairo University
Cairo, Greater Cairo, Egypt