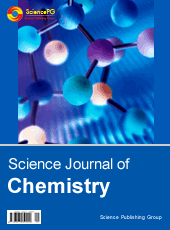 Science Journal of Chemistry
Science Journal of Chemistry (SJC) , a peer-reviewed open access journal published bimonthly in English-language, provides a international forum for the publication of outstanding full papers from all areas of chemistry and related fields, and the attendant goal is to promote widespread acceptance of the Journal as an authoritative and indispensable holding in academic and institutional libraries. Contributions that are fundamental to the development of chemistry and its applications are accepted. Generally, review articles on some topic of special current interest will be published.
Abstracting and Indexing
Peer Reviewers
Hazem Abu Shawish
Chemistry Department, Al-Aqsa University
Gaza, Palestinian Territories
Solhe Alshahateet
Mutah University
Mutah, Karak, Jordan
Mira Pucarević
Educons University, Faculty for Environmental Governance and Corporate Responsibility
21208 Sremska Kamneica, Vojvodina, Serbia
Abd-El-Hamid Bensafi
Department of Chemistry, Faculty of Sciences, Abou Bekr Belkaid University of Tlemcen
Chetouane, Tlemcen, Algeria
Qichun Zhang
School of Materials Science and Engineering, Nanyang Technological University
Singapore
Abbas Madani
Institute for Integrative Nanosciences (Iin), Ifw, Dresden, Germany
Dresden, D-01171 Dresden, Germany
Nikolia Lalioti
Department of Chemistry, University of Patras, Greece
Patra, Achaia, Greece
Mohamed Loukil
Chemistry, Sfax University
Sfax, Tunisia
Vladyslav V. Lisnyak
Department of Physical Chemistry, Chemical Faculty, Kyiv National Taras Shevchenko University
Kyiv, Kyiv, Ukraine, Ukraine
Nenad Milosavic
Biochemistry, Belgrade University
Belgrade, Serbia
Anil Bari
Department of Physics, Arts, Commerce & Science College
Bodwad, Maharashtra, India
Mohammad Hadi Dehghani
Environmental Health Engineering, Tehran University of Medica Sciences
tehran, Iran
Nestor Tancredi
Catedra De Fisicoquímica (Detema) Y Plataforma Tecnologica De Energía Del Polo Tecnologico De Pando, Facultad De Quimica, Universidad De La Republica
MONTEV IDEO, MONTEVIDEO, Uruguay
Nawal Suleman
Chemistry Department ,Zilfi Faculty of Education,Majmaah University
Zilfi, Saudi Arabia
Badar Ghauri
Department of Rs and Gisc, Institute of Space Technology
Karachi, Sindh, Pakistan
Ganesh Mani
Hanseo University, South Korea
Seosan, Chungcheongnam-do, South Korea
Ali Ashour Al- Dhfeery
chemical engineer in the South Refineries Company and Lecturer in Technology College
Basra, Become a Reviewer, Iraq
Ahmed El-Mekabaty
Chemistry department, Mansoura University
Mansoura, Cairo, Egypt
Nadia Elkanzi
Faculty of Science,Chemistry Department,Aswan University
Aswan, Egypt
Seema Akbar
regional research institute of unani medicine the university of kashmir campus
srinagar, jk, India
Ahmed Fazary
Chemistry Department, Faculty of Science, King Khalid University
Abha, Province of Asser, Saudi Arabia
Ho Soonmin
INTI INTERNATIONAL UNIVERSITY
NILAI, NEGERI SEMBILAN, Malaysia
Pablo Lopez-Albarran
Wood Science and Technology, Universidad Michoacan de San Nicolas de Hidalgo
Morelia, Michoacan, Mexico
Amel Bendjeddou
University of Souk-Ahras
Souk-Ahras, Algeria
Rumana Jahan
Senior Scientist, Materials Science Research, Centre for Advanced Research in Sciences, University of Dhaka
Dhaka, Bangladesh
Dr. Jagvir Singh
department of Chemical Sciences, Shri JJT University, Rajasthan-India
Jhunjhunu, Rajasthan, India
Ranjan Mohapatra
Department of chemistry, Govt. college of Engineering, Keonjhar-758002, Odisha, India
Keonjhar, odisha, India
Dr.purvesh shah
S.P.University,V.V.Nagar
India
fatma Ali
Assistant professour
Egypt
arshia parveen
asst professor
parbhani, maharashtra, India
Balaji Krishnasamy
Department of Chemistry, PSG College of Technology
Coimbatore, Tamil Nadu, India
Santosh Nalage
RESEARCH & DEVELOPMENT DEPARTMENT, ANSHUL SPECIALTY MOLECULES LTD, ROHA
ROHA, MAHARASHTRA, India
Beheshteh Sohrabi
The Chemistry Department of Science and Technology University
Tehran, Iran
BHARAT Makwana
Assistant professor at kadi university, Research fellow at Gujarat University.Ahmedabad
Ahmedabad, Gujarat, India
Xiaoshi Wang
Epigenetics Program, Department of Biochemistry and Biophysics of Perelman School of Medicine, University of Pennsylvania, Philadelphia, PA
Philadelphia, PA, USA
Dr Bharat Makwana
Department of chemistry,HVHP institute of PG studies and research,KSV university,india
Ahmedabad, Gujarat, India
Oguejiofo Ujam
Department of Pure and Industrial Chemistry, University of Nigeria, Nsukka, Enugu, State, Nigeria.
Nsukka, Enugu, Nigeria
Jing Wang
CEEFC, University of Southern Queensland
Queensland, Australia
ala sirhan
faculty of pharmacy/ Batterjee Medical College
Jeddah, Makkah, Saudi Arabia
L Mallesha
Asst. Professor, PG Dept. of Chemistry, JSS College of Arts, Commerce and Science
Mysore, Karnataka, India
Mohanad Mousa Kareem
chemistry department-college of science-Babylon University
Hilla - Babylon, Babylon, Iraq
Amit Kumar
Department od Chemistry, Konkuk University
Seoul, South Korea
KLM Nopqrst
gghjkutrrehjkjj
kjh, uuuu, Burundi
Saeeda Nadir Ali
Department of Chemistry, NED University of Engineering and Technology, Karachi
Karachi, Sindh, Pakistan
Sergiu Coseri
Natural Polymers; "Petru Poni" Institute of Macromolecular Chemistry Iasi, Romania
Iasi, Romania
Karol Jackowski
Faculty of Chemistry, University of Warsaw
Warszawa, woj. mazowieckie, Poland
Nikhil Madadi
University of Arkansas for Medical Sciences
USA
Rose Philo
Associate Pofessor, Dept. of Chemistry,st.Paul's college, Kalamassery
Ernakulam, Kerala, India
rehab abdeen
Ass. prof
Saudi Arabia
Nese Erdinc
Marmara University, Faculty of Pharmacy, Analytical Chemistry Department
Istanbul, Turkey
Sheraz Ahmad Khan Tanoli
universidade federal de são carlos
Brazil
Rajesh Thamatam
Chemistry, University of New Hampshire
USA
Yousry Issa
Chemistry Department, Faculty of Science, Cairo University
Cairo, Greater Cairo, Egypt
Hasan Kılıç
Department of Physical Chemistry at Marmara university
Turkey