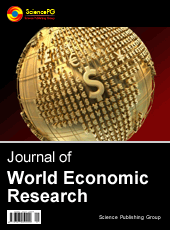 Journal of World Economic Research
Journal of World Economic Research (JWER) aims to enhance the study of economic issues such as open economy macroeconomics, international factor movements and business, exchange rate movements and determination, international trade theories, trade policy, FDI, international capital flows, external debt, regional trade agreements, foreign aid, international trade organizations, world economic programs, impacts of globalization, global capital markets, global economic integration and cooperation, global economic inequality, intellectual property rights, optimum currency areas, and other timely and concerned global or international issues. JWER also welcomes scholarly contributions from officials with government agencies, international agencies, and non-governmental organizations.
Abstracting and Indexing
Peer Reviewers
Peer-reviewers wanted!
We are actively looking for peer-reviewers from all specialties. Peer-reviewers should be experienced researchers who have published high quality papers before. If you want to be added to our peer-reviewers database, please join us via SciencePG online system: http://www.sciencepublishinggroup.com/login.aspx
Note that all corresponding authors who published papers in Science Publishing Group journals are automatically added to our peer-reviewers database and may occasionally be invited to comment on articles related to their subject area.
Juan Ignacio Pulido-Fernández
Department of Economics, University of Jaén
Jaén, Spain
Ari Francisco De Araujo Jr
Economics Dept., Ibmec Minas Gerais
Belo Horizonte, Minas Gerais, Brazil
Isabelle Piot-Lepetit
INRA, Department of Economics
Montpellier, France
Claudio Djissey Shikida
Faculdades Ibmec
Belo Horizonte, Minas Gerais, Brazil
Theodore Mariolis
Department of Public Administration, Panteion University of Social and Political Sciences
Athens, Greece
Thiago Caliari Silva
Federal University of Alfenas
Varginha, MG, Brazil
Bashar Malkawi
College of Law, University of Sharjah
Sharjah, United Arab Emirates