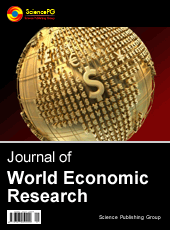 Journal of World Economic Research
Journal of World Economic Research (JWER) aims to enhance the study of economic issues such as open economy macroeconomics, international factor movements and business, exchange rate movements and determination, international trade theories, trade policy, FDI, international capital flows, external debt, regional trade agreements, foreign aid, international trade organizations, world economic programs, impacts of globalization, global capital markets, global economic integration and cooperation, global economic inequality, intellectual property rights, optimum currency areas, and other timely and concerned global or international issues. JWER also welcomes scholarly contributions from officials with government agencies, international agencies, and non-governmental organizations.
Abstracting and Indexing
Peer Reviewers
Juan Ignacio Pulido-Fernández
Department of Economics, University of Jaén
Jaén, Spain
Ari Francisco De Araujo Jr
Economics Dept., Ibmec Minas Gerais
Belo Horizonte, Minas Gerais, Brazil
Isabelle Piot-Lepetit
INRA, Department of Economics
Montpellier, France
Claudio Djissey Shikida
Faculdades Ibmec
Belo Horizonte, Minas Gerais, Brazil
Theodore Mariolis
Department of Public Administration, Panteion University of Social and Political Sciences
Athens, Greece
Thiago Caliari Silva
Federal University of Alfenas
Varginha, MG, Brazil
Bashar Malkawi
College of Law, University of Sharjah
Sharjah, United Arab Emirates
Antonio Caleiro
Departamento De Economia & Cefage-Ue, Universidade De Evora
Evora, Portugal
Shuyi Jiang
Emmanuel College
Boston, MA, USA
Himanshu Sekhar Rout
Centre of Advanced Study In Economics, Utkal University
Bhubaneswar, Orissa, India
Nicoleta Radneantu
Romanian-American University, Finance and Accounting Department
Bucharest, Romania
Jose Antonio Valles
Universidad Autonoma del Estado de Mexico
Estado de Mexico, Mexico
Yagoub Elryah
School of Southeast Asian Studies, Faculty of International Relations, Xiamen University
Xiamen, Fijian, China
Dr. Olfa MANAI DABOUSSI
Higher Institute of Management of Tunis -University of Tunis-TUNIS. MACMA and MASE- ESSAI.
Tunisia
Chien-leng Hsu
Commerce Development and Policy Research Division, Commerce Development Research Institute, Taiwan
n/a, Taiwan
WEIWEI YANG
Beijing University of Technology
Beijing, China