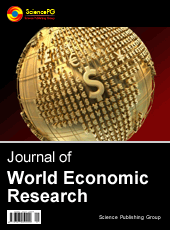 Journal of World Economic Research
Journal of World Economic Research (JWER) aims to enhance the study of economic issues such as open economy macroeconomics, international factor movements and business, exchange rate movements and determination, international trade theories, trade policy, FDI, international capital flows, external debt, regional trade agreements, foreign aid, international trade organizations, world economic programs, impacts of globalization, global capital markets, global economic integration and cooperation, global economic inequality, intellectual property rights, optimum currency areas, and other timely and concerned global or international issues. JWER also welcomes scholarly contributions from officials with government agencies, international agencies, and non-governmental organizations.
Abstracting and Indexing
Peer Reviewers
Antonio Caleiro
Departamento De Economia & Cefage-Ue, Universidade De Evora
Evora, Portugal
Shuyi Jiang
Emmanuel College
Boston, MA, USA
Himanshu Sekhar Rout
Centre of Advanced Study In Economics, Utkal University
Bhubaneswar, Orissa, India
Nicoleta Radneantu
Romanian-American University, Finance and Accounting Department
Bucharest, Romania
Jose Antonio Valles
Universidad Autonoma del Estado de Mexico
Estado de Mexico, Mexico
Yagoub Elryah
Research School for Southeast Asian Studies, Xiamen University
Xiamen, Fijian, China
Dr. Olfa MANAI DABOUSSI
Higher Institute of Management of Tunis -University of Tunis-TUNIS. MACMA and MASE- ESSAI.
Tunisia
Chien-leng Hsu
Commerce Development and Policy Research Division, Commerce Development Research Institute, Taiwan
n/a, Taiwan
WEIWEI YANG
Beijing University of Technology
Beijing, China
Shijun Fu
Chongqing University of Arts and Sciences
Chongqing, China
George Soklis
Research Institute for Tourism, Athens, Greece, and School of Applied Mathematical and Physical Sciences, National Technical University of Athens
Athens, Greece
Theodore Mariolis
Department of Public Administration, Panteion University of Social and Political Sciences
Athens, Greece
Amina Ahec Sonje
Department of Economics, Zagreb School of Economics and Management
Zagreb, Croatia
Wan Mansor Wan Mahmood
Dept. of Finance & Islamic Banking, Universiti Teknologi MARA Terengganu, MALAYSIA
23000 Dungun, Terengganu, Malaysia
Neamtu Adina Claudia
Departament of Management, Marketing and Business Administrations, Constantin Brancusi University
Romania