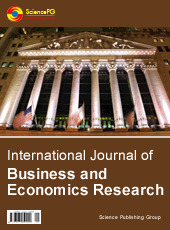 International Journal of Business and Economics Research
International Journal of Business and Economics Research (IJBER) serves as an essential resource and provides practical information for people who apply economics on their jobs. The aim of IBER is to publish research articles on business and economics sciences, and other social sciences that are related to business and economics for contributing to the international social sciences literature. Original studies in accounting, finance, economics, international business, management, and marketing are appropriate for publication consideration in the journal. Although IBER has a preference for academic studies, it also welcomes studies that are written by other researchers and practitioners.
Abstracting and Indexing
Peer Reviewers
Abdul Saboor
Department of Management Sciences, Allama Iqbal Open University of Pakistan
Vehari, Punjab, Pakistan
Akram Samour
Buisness Administration Department, Islamic University of Gaza
Gaza, Gaza Strip, Palestinian Territories
Alunica Morariu
Stefan Cel Mare University of Suceava, Faculty of Economics and Public Administration
Suceava, Romania
Antonella Russo
Department of Accounting and Economi, Parthenope University
Naples, Italy
Aryani Ahmad Latiffi
Department of Construction Management, Faculty of Technology Management and Business, University Tun Hussein Onn Malaysia (Uthm).
Parit Raja, Batu Pahat, Johor, Malaysia
Christo Kaftandjiev
Sofia University "St. Kl. Ohridski", Faculty of Journalism and Mass Communications
Sofia, Bulgaria
Corina M. Radulescu
Economics Department, Technical University of Cluj Napoca
Cluj Napoca, Romania
Eduardo Mauch Palmeira
Universidade Federal do Pampa (Propesq) (UNIPAMPA) e Instituto de Desenvolvimento Educacional Alto Uruguai (IDEAU) - Campus Bagé.
Bagé, Rio Grande do Sul, Brazil
Fabiana Mariutti
Faculty of Business and Law, Leeds Metropolitan Unviersity
Leeds, West Yorkshire, UK
H.Tezcan Uysal
Department of Management and Organization, Bulent Ecevit University
Zonguldak, Turkey
Haitham Nobanee
Abu Dhabi University
Abu Dhabi, United Arab Emirates
Issam M. I. Buhaisi
Accounting - finance
Department of Accounting and Finance, Islamic University of Gaza, Gaza Strip, Palestinian Territories
Ivana Božić Miljković
Faculty for Legal and Business Studies "Dr Lazar Vrkatić" Novi Sad
Novi Sad, Serbia/Vojvodina, Serbia
Iwona Gorzeń-Mitka
Faculty of Management, Czestochowa University of Technology
Czestochowa, Poland
Jonas Maia
Fundação Getúlio Vargas - EAESP
Sao Paulo/SP, Brazil
Jose Antonio Valles
Universidad Autonoma del Estado de Mexico
Estado de Mexico, Mexico
Joseph Kargbo
Sanda Development Partners, Inc.
Falls Church, Virginia, USA
Kamlesh Kumar
Graphic Era Hill University
India
Khalil Elnamrouty
Economics and Political Science, Faculty of Commerce, Islamic University
Gaza, Gaza Strip, Palestinian Territories
Leonardo Kontz
Direção, FIERGS/SESI
Pelotas, RS, Brazil
Luca Giustiniano
Department of Enterprise and Management, Luiss Guido Carli University
Rome, _, Italy
Manuel Landajo
Department of Applied Economics, University of Oviedo
Oviedo, Asturias, Spain
Michael Barbas
School of Business Studies, Sharda University
Greater Noida, UP, India
Mohamed Benbouziane
Mifma Laboratory, University of Tlemcen
Tlemcen, Algeria
Moh'D Ajlouni
Department of Banking & Finance, Faculty of Economics, Yarmouk University
Irbid, Jordan
Mustafa Tutar
Mechanical and Manufacture Department, Mondragon University
Mondragon, Guipuzcoa, Slovenia
Mustafa Selcuk Uzmanoglu
Marmara University, Vocational School of Technical Sciences, Fisheries Department
Istanbul, Kadikoy, Turkey
Pieris Chourides
Business School, European University Cyprus
Nicosia, Cyprus
Radoslav Jankal
Department of Management Theories, Faculty of Management Science and Informatics, University of Zilina
Zilina, Slovakia
Sajitha A
Jawaharlal Nehru University, Delhi
Trivandrum, KERALA, India
Sanjay Kanti Das
Department of Aem, University of Swaziland
Luyengo Campus, Luyengo, India
Victor Afari-Sefa
AVRDC-The World Vegetable Center
Arusha, Tanzania