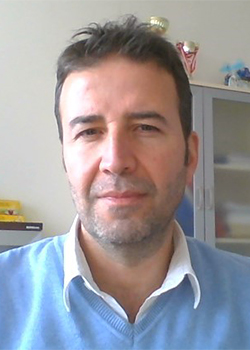 Lead Guest Editor:
Ahmet Hulusi Dinçoğlu
Department of Nutrition and Dietetics, Health Sciences Faculty, Mehmet Akif Ersoy University, Burdur, Turkey
Guest Editors
Zafer Gönüalan

Department of Food Hygiene and Technology, Veterinary Faculty, Erciyes University
Kayseri, Turkey
Özen Yurdakul

Department of Food Hygiene and Technology, Veterinary Faculty, Mehmet Akif Ersoy University
Burdur, Turkey
Erhan Keyvan

Department of Food Hygiene and Technology, Veterinary Faculty, Mehmet Akif Ersoy University
Burdur, Turkey
Halil Yalçın

Department of Food Hygiene and Technology, Veterinary Faculty, Mehmet Akif Ersoy University
Burdur, Turkey
Filiz Kök

Department of Food Hygiene and Technology, Veterinary Faculty, Adnan Menderes University
Aydın, Turkey
Gülsüm Öksüztepe

Department of Food Hygiene and Technology, Veterinary Faculty, Fırat University
Elazığ, Turkey
Sema Özmert Ergin

Department of Nutrition and Dietetics, Health Sciences Faculty, Mehmet Akif Ersoy University
Burdur, Turkey
Sercan Özbek Yazıcı

Department of Nutrition and Dietetics, Health Sciences Faculty, Mehmet Akif Ersoy University
Burdur, Turkey
Osman İrfan İlhak

Department of Food Hygiene and Technology, Veterinary Faculty, Fırat University
Elazığ, Turkey
Gülşah Kaner

Department of Nutrition and Dietetics, Health Sciences Faculty, Mehmet Akif Ersoy University
İzmir, Turkey
Introduction
Special issue theme aims and scope to bring together the results of fundamental and applied research into healthy foods and biologically active food ingredients.

Theme will accept original researches and reviews in the specific area at the boundaries among food hygiene, food technology, nutrition, dietetic, and health welcoming papers having a good interdisciplinary approach. Theme will cover the fields of plant bioactive; dietary fiber, probiotics; functional lipids; bioactive peptides; vitamins, minerals and botanicals and other dietary supplements. Nutritional and technological aspects related to the development of functional foods and beverages are of core interest to the journal. Experimental works dealing with food digestion, bioavailability of food bioactive and on the mechanisms by which foods and their components are able to modulate physiological parameters connected with disease prevention are of particular interest as well as those dealing with personalized nutrition and nutritional needs in pathological subjects.

Papers will cover topics such as new food bioactive; efficacy and safety of bioactive compounds, and other healthy food constituents using genomic, chemical and biochemical technologies.

Characterization of healthy foods and functional constituents with reference to product development; preparation of natural and synthetic ingredients for use in foods, effects of processing (including packaging and storage) on functionality and improvement of product quality; verification, quality control and traceability of natural and synthetic functional food ingredients and products will be considered.