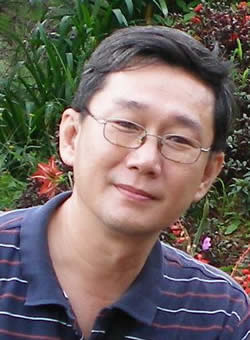 Faculty of Transportation Engineering, Ho Chi Minh City University of Technology, Ho Chi Minh, Vietnam
Guest Editors
Ifsttar-French Institute of Science and Technology for Transport, Development and Networks
Cité Descartes, Marne La Vallée, France
Professor Sergey Kharlamov

Department of Theoretical and Applied Mechanics, Department of Transportation & Storage of Petroleum and Gas, Tomsk Polytechinc University
Tomsk, Russia
Haider Mohammed Ziaul

Economics Discipline, Khulna University
Khulna, Bangladesh
Tran Tien Anh

Department of Aerospace Engineering, Ho Chi Minh City University of Technology
Ho Chi Minh City, Vietnam
Department of Naval Architecture & Marine System Engineering, Ho Chi Minh City University of Technology
Ho Chi Minh City, Vietnam
Aerospace Engineering, Ho Chi Minh City University of Technology
Ho Chi Minh, Vietnam
Department of Science Technology - R&D, Hochiminh city University of Transportation
HoChiMinh city, Vietnam
Faculty of Vehicle and Energy Engineering, Ho Chi Minh City University of Technology and Education
Thu Duc, Ho Chi Minh City, Vietnam
Department of Aerospace Engineering, Ha Noi University of Science & Technology
Hai Ba Trung, Ha Noi, Vietnam
Akshey Bhargava

Department of Civil and Environmental Engineering, Global Institute of Engineering and Technology, JLNT University
Jaipur, Rajasthan, India
javad khamisabadi

Faculty of Management, Islamic Azad University
tehran, Iran
Helena Prima Garcia

Molecular Materials Research unit, Institute of Molecular Science
Valencia, Spain
Gaurav Kewlani

School of Engineering, Massachusetts Institute of Technology
Cambridge, Massachusetts, USA
Muhammet Akpınar

Department of Civil Engineering, Karadeniz Technical University
Trabzon, Turkey
Ammar Shubber

Civil Engineering Department, University of Technology
Baghdad, Iraq
Rabiul Ahasan

Department of Industrial Engineering, Faculty of Technology, University of Oulu
Oulu, Finland
Chockalingam Aravind Vaithilingam

Electrical Engineering, School of Engineering, Taylor's University
Subang Jaya, Selangor, Malaysia
National Renewable Energy Laboratory
Golden, Colorado, USA
Reza Serajian

Department of Mechanical Engineering, University of California Riverside
Riverside, California, USA
Department of Aeronautical Engineering, Institute of Aeronautical Engineering
Hyderabad, Telangana, India
Paper List
1
Authors: Nguyen Van Trang, Pham Tuan Anh, Huynh Thinh
Pages: 1-8
Published Online: Aug. 8, 2018
DOI:
10.11648/j.ijmea.s.2018060401.11
Introduction
IntroductionTransportation Engineering Technology
involves the design, manufacture and upkeep of aircraft, spacecraft and all types of transportation mean. Transportation engineering research deals with the design, construction, and study of the science behind the forces and physical properties of crafts, vessels and vehicles. The field also covers their aero-hydrodynamic characteristics and behaviors, airfoil, control surfaces, lift, drag, and other studies in traffics and transportation problems. It is immensely important in the present day world. This special issue is intended to attract submissions of research papers concerning the materials and technologies in aerospace and transportation engineering. We look forward to original research papers involving latest discoveries and improvements in this area.
Aims and Scope:
1. Materials Chemistry, Structure and Synthesis for Aerospace (AE), Marine System (MS) and Transportation (TR) Engineering
2. Functional Materials for AE, MS, TR Engineering
3. New Technologies and Design for AE, MS, TR and Combustion Systems
4. Modeling and Simulation in AE, MS, TR Engineering
5. Synthetic Fuels and Biofuels for Power Engineering
6. Energy Policies and Strategies Related to AE, MS, TR Engineering
7. Applications of AE, MS, TR Technology
8. Technological Innovation in Aviation and Transportation
9. Transportation Systems
10. Navigation
11. Vehicle Routine
12. Logistics
13. Transportation Engineering Education
This Special Issue has three previous parts, for more details about these parts, take a reference to:
Part 1:
http://www.sciencepublishinggroup.com/specialissue/220006
Part 2:
http://www.sciencepublishinggroup.com/specialissue/220014
Part 3:
http://www.sciencepublishinggroup.com/specialissue/220018