Lead Guest Editor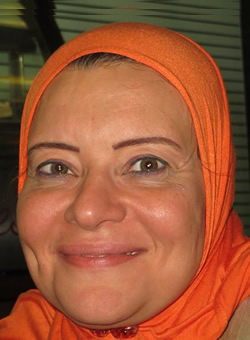 ABEER IBRAHIM
Alexandria University Faculty of Medicine, Internal Medicine Department, Alexandria, Egypt
Guest Editors
Abeer Ibrahim


Internal Medicine department, Faculty of Medicine, Alexandria University, Alexandria, Egypt

Yasmine Altawijri


King Faisal Specialist Hospital and Research Center, Riyadh, Saudi Arabia

Azza Ismael


Internal Medicine Department, Faculty of Medicine, Alexandria University, Alexandria, Egypt

Rania Abdelreheem


Internal Medicine Department, Faculty of Medicine, Alexandria University, Alexandria, Egypt

Urlike Laudon


King Faisal Specialist Hospital and Research Center, Riyadh, Saudi Arabia

Hussein Elseisi


King Faisal Specialist Hospital and Research Centre, Riyadh, Saudi Arabia

Amani Elbanna


Internal Medicine department, Faculty of Medicine, Alexandria University, Alexandria, Egypt

Hoda Elaggan


Internal Medicine Department, Faculty of Medicine, Alexandria University, Alexandria, Egypt

Ali Albenmousa


Gastroenterology and Hepatology Department, Prince Sultan Medical City, Riyadh, Saudi Arabia

Abdulrhman Alrobayan


Gastroenterology and Hepatology Department, Prince Sultan Medical City, Riyadh, Saudi Arabia

Nasser Almasrri


Gastroenterology and Hepatology Department, Prince Sultan Medical City, Riyadh, Saudi Arabia
Guidelines for Submission
Manuscripts can be submitted until the expiry of the deadline. Submissions must be previously unpublished and may not be under consideration elsewhere.
Papers should be formatted according to the guidelines for authors (see:
http://www.sciencepublishinggroup.com/journal/guideforauthors?journalid=252
). By submitting your manuscripts to the special issue, you are acknowledging that you accept the rules established for publication of manuscripts, including agreement to pay the Article Processing Charges for the manuscripts. Manuscripts should be submitted electronically through the online manuscript submission system at
http://www.sciencepublishinggroup.com/login
. All papers will be peer-reviewed. Accepted papers will be published continuously in the journal and will be listed together on the special issue website.
Published Papers
1
Authors: Eman Youssef Moursy, Azza Abd El-Kareem Ismael, Reham Fadl Hassan Mouftah, Eglal Saad Ghanem El-Tahan
Pages: 1-4
Published Online: Oct. 25, 2015
2
Authors: Mohamed Magdy, Mona Mostafa, Heba Elshair, Hesham Elghoneimy
Pages: 5-12
Published Online: Oct. 25, 2015
3
Authors: Iman E. El-Gohary, Azza Abedl-Karim, Doaa I. Hashad
Pages: 13-17
Published Online: Nov. 30, 2015
4
Authors: Eman. H. El Sayed, Mohamed S. Brakat, Wael M. Diab, Mona H. Abd Elmaged, Manal. Y. Tayel, Ragaa. A. Ramadan
Pages: 18-23
Published Online: Feb. 29, 2016
Introduction
The medical researches have a great revolution over the last decades. The development of hundreds of subspecialist and their underlying sub-subspecialties lead to uncountable articles in different fields of medicine. Regional variation of the authors has been neglected in this type of publications. The middle east is a unique area of this world. It has different pattern of illness, epidemiology, and presentation of different disease. The social background of middle east made the approach to the illness and research is different among the researchers in the medical field. The presentation of medical researches of different medical specialties including general Medicine, gastroenterology, hepatology, and diabetes will help to focus on the medical problems in our middle eastern and Arabic communities. It will also include researches from liver transplantation field too. It is highly specialized field need to be in separate entity, though the ethical and regional background of our communities made it different from the same specialties in western countries.

Aims and Scope:

1. Evaluate the ability of different researches from different subspecialties to reflect the disease pattern difference in Middle East.
2. Present the different medical capacity of this medical group to share same scope towards their communities.
3. It will highlight the areas of strength, weakness in our researches, and its reflection to the community demands.